Car #235
1957 Flame Red Thunderbird
Call Amos @972-931-3357 for Information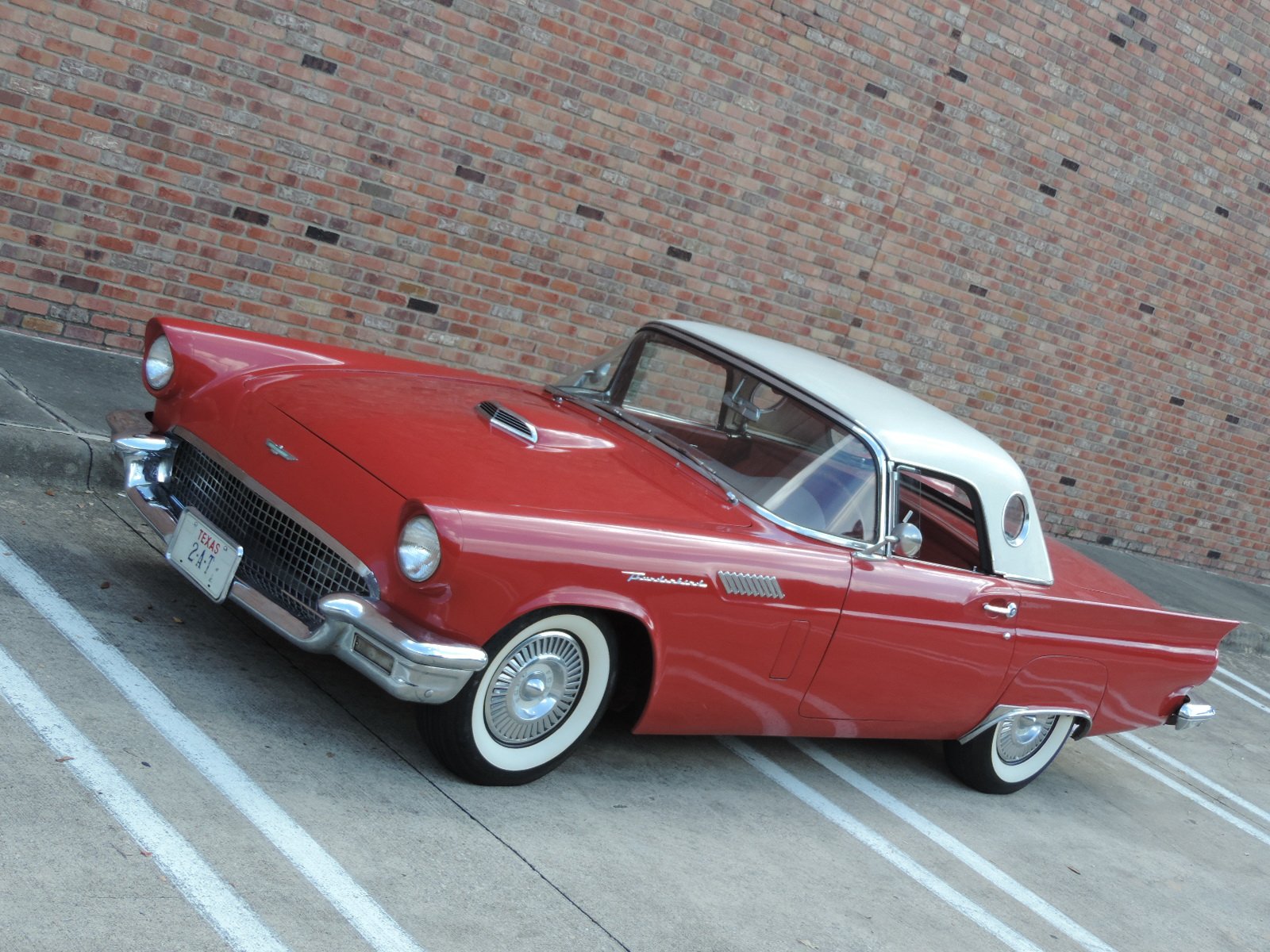 1957 Thunderbird ORIGINAL FLAME Red V Code with Nice Red XH INTERIOR
THE ORIGINAL FORD MOTOR CO. FACTORY INVOICE
Sold new at Portwood Ford in Brownfield, Texas
INVOICED November 30th- Dd Series
Loaded with OPTIONS Ford's Masterguide Power Steering, 4 Way Power seat, Fords Swift Sure power brakes, Ford-O-Matic Automatic Transmission, Engine Dress Up Kit, Fords accessory back up light system, Town & Country Signal Seeking radio.
In 2013 Amos purchased in McKinney, Texas after owner passed. On 9-10-13 the following work was performed:
New Fuel & Vacuum Lines, Radiator Hoses, Major Tune Up, Point & Plugs, condenser, Installed Aluminum Valve covers, New Gas tank, New cooling lines on transmission, Valley Pan and Intake gaskets, Rebuilt Carb. Choke system, New Fuel filter, Remove & Reinstall Engine to reseal transmission and torque converter, New Pinion seal, Replaced carburetor.
Pictures shown are from her older restoration. I have had her set back in my collection for some time now.
Current update:
New body-paint refinishing in Torch Red with matching hardtop
More pictures as she progresses
If reserved today she should finish in 4 to 5 months.
You may choose from some 26 accessories to be added in her final steps to completion
For example:
Thunderbird air conditioning
Minter's Cooling package to enable her to run cooler than she did in 1957
Torch red seat belts 2 or 3 installed
Electronic ignition
Thunderbird AM-FM compatible with Blue tooth, accepts original radio knobs
Best Quality Thunderbird wire wheels
Wide white walls high quality rated at 148 MPH for a safer and more comfortable ride
Minter custom fitted for only 1957 Thunderbirds car cover with minter Emblem on front
Best quality hard top dolly for storing and moving the hardtop
Original restored Convertible tops, color of your choice, fitted to this 1957 Thunderbird
Seat Repositioning to allow more leg room
Permanently moves seat approximately 2″ back and approximately 1″ down
More options, not mentioned to offer on Thunderbirds purchased directly here.
Important to note: We only offer these accessories on Thunderbirds sold directly here.
(972) 931-3357 MAIN
(214) 683-8574 CELL
Amos and Justin Minter's Thunderbirds 55-57
17730 Davenport Road
Dallas, TX 75252
Email
amos@amosminter.com
Payments
Check or Wire Transfer