Car #182
1957 Ford Custom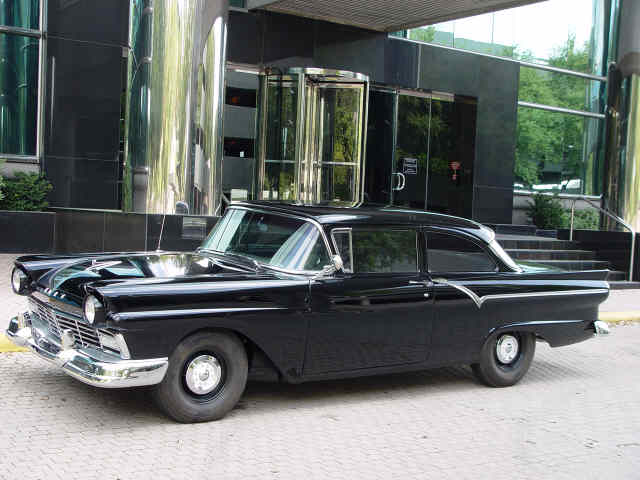 1957 Ford Ser. # E7LG 2 Door CUSTOM Series Professional Body off the frame restoration with test miles.
No expense spared.
Reported originally assembled in Ford's S. California plant.
Rebuilt 312-270 h.p. V8- 2x4BBL V8.
Rebuilt Ford-O-Matic automatic transmission.
Rebuilt Ford Masterguide Power Steering and Fords Swift sure Power Brakes.
Ford in dash air conditioning. Ford Magic Air Original system.
Fords Accessory padded dash.
Ford's accessory Town & Country signal seeking radio with rear seat speaker with correct fade in switch.
Two 4's carburetor system with new linkage, original passenger dual 4's air cleaner, different from T-bird. Correct Garbage Can Fuel Filter.
Ford accessory engine dress up option with aluminum valve covers.
NOS 1957 Ford Custom steering wheel.
Concours correct interior from LeBarron Bonney. 5- 800 x 14 B.F. Goodrich Silvertowns with solid center 1957 steel wheels.
The common 1957 Ford has slotted wheels.
Correct Bumper jack on NOS burtex mat with proper side boards.
Aluminized bolt on exhaust system. Ready to show with mirrors underneath or breathless ride.
Retail Delivery Moonshine 57 Custom Series 2 DR
Thank you officer for warning me my speedometer is too slow.
One of Amos's two Most Special 1957 Customs.
(972) 931-3357 MAIN
(214) 683-8574 CELL
Amos and Justin Minter's Thunderbirds 55-57
17730 Davenport Road
Dallas, TX 75252
Email
amos@amosminter.com
Payments
Check or Wire Transfer