Car #499
1956 ORIGINAL SAGE Green Ford Thunderbird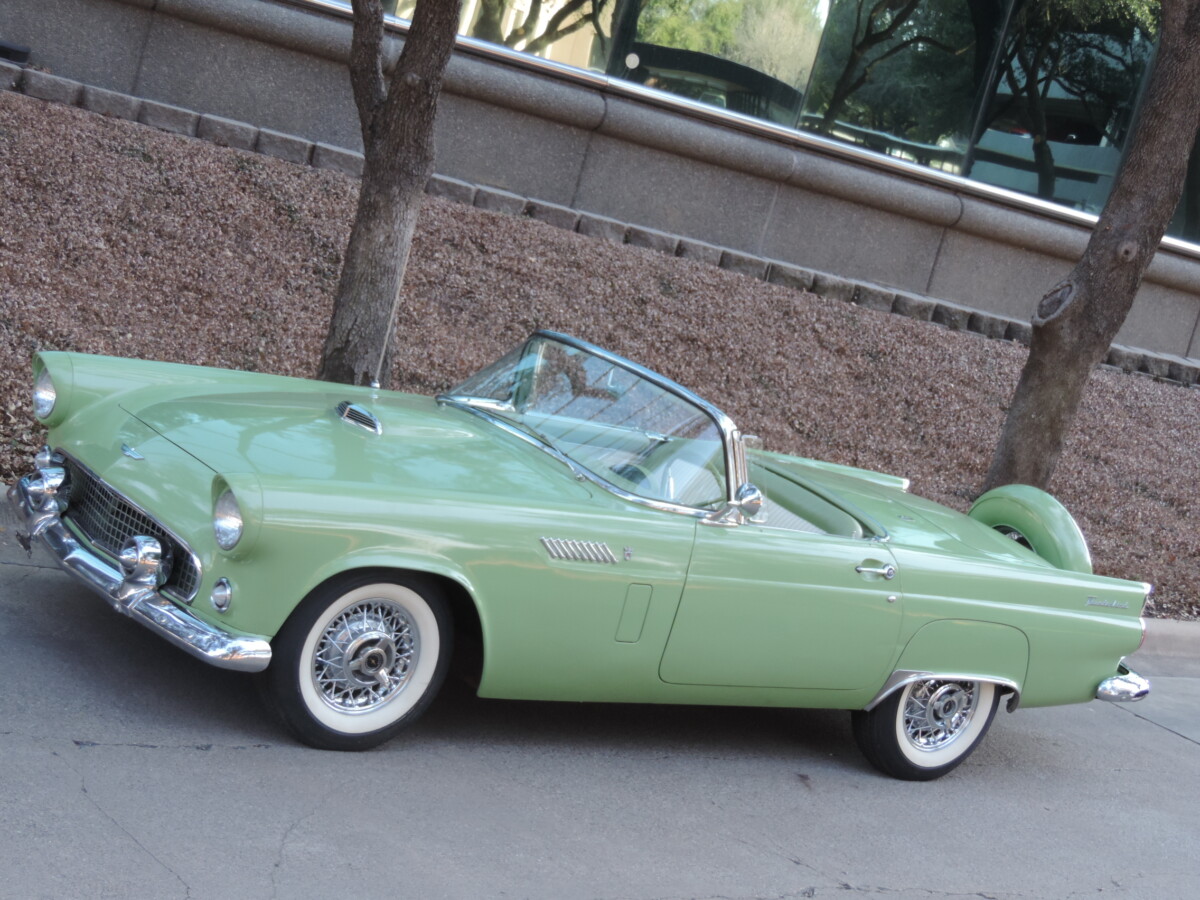 1956 ORIGINAL SAGE Green FORD Thunderbird
Fully Loaded with every Power Accessory offered by Ford in 1956
312-225 h.p. Thunderbird Special V/8-4BBL
Ford-O-Matic 3 Speed Automatic Transmission
Ford's Master Guide Power Steering
Ford's Swift Sure Power Brakes
4 Way Power Seat
Original Power Windows
Ford's Engine Dress Up Option
Accessory See Clear Windshield Washer System
Ford's Back Up Light System
Town & Country Signal Seek Radio
2 Tops Consist of Sage Green Tonneau top & Hardtop
In Dry Climate Storage last 15 years
Odometer 51,411 miles believed original
Texas Safety inspection for highway
THE ORIGINAL 1956 INTERIOR Today
Thunderbird Kelsey Hayes Wire Wheels with replaced 670 x 15 Wide Whitewalls
Thick book of Documentations Include, 1956 ORIGINAL FACTORY INVOICE, The 1956 Ford dealer bill of Sale + Repair, Maintenance & Restoration receipts.
1956 Stephens Ford sold this 1956 Sage Green Thunderbird with a trade in of 1954 ford 2 Door V/8 of $1,650 For Total Price of $4,529.75- Quite Expensive in 1956.
ORIGINAL Bill of SALE FOR Documentation
DEFINITELY THE Most Unique ORIGINAL COLOTR of 1956 Thunderbirds
View 2 minute video of Minter's 1956 Sage Green Thunderbird as it sets a World Record Price by going to amosminter.com , on the opening page at the top click on Minters Quality  difference.
(972) 931-3357 MAIN
(214) 683-8574 CELL
Amos and Justin Minter's Thunderbirds 55-57
17730 Davenport Road
Dallas, TX 75252
Email
amos@amosminter.com
Payments
Check or Wire Transfer